What Sets Our Gymnastics Training Apart?
At Manakoa Gymnastics, all of our coaches possess the highest USAG professional certification. All of our coaches are university graduates and have been background checked through USAG and NCSI, passed rigorous certification tests, and have practiced gymnastics for many years. We also pride ourselves in maintaining the highest standard of cleanliness and all of our equipment is AAI, the top brand that supplies Olympic and elite level competitions. Below are a few other highlights that set us apart.
Highlights
Experienced, qualified, certified and background checked professionals for ALL classes, not just for the advanced classes and/or the competitive team.

Personalized training. Catering to a clientele seeking personalized gymnastics training (vault, bars, beam, and floor) following a USAG junior olympic curriculum.

Clean facility – All mats and carpet are cleaned and disinfected daily to prevent foul smells and germs.

No hidden fees – No initiation fee, no annual membership fee, no insurance fee, no additional auto-pay set-up fees or charges.

Ample Street Parking

Centrally Located

Easy Freeway Access

Open Enrollment - Scroll down to the bottom of the page and click on the "Register Button."
Why Gymnastics?
The highest aspiration of an athlete is to compete in the Olympics. And of all the Olympic athletes, none surpass the gymnast in strength, flexibility, and athletic ability. Think of a gymnast, and you may well imagine the lean, muscular physique, the distinguished poise and posture, the confidence, the courage and perseverance. Gymnasts are a different type of athlete. A gymnast can easily become any other type of athlete, but other athletes cannot so easily become gymnasts. So if you were to choose one athletic endeavor to commit yourself to, why settle for less? Rouse your courage! Raise yourself above the average! Aspire to become someone extraordinary: aspire to be a gymnast!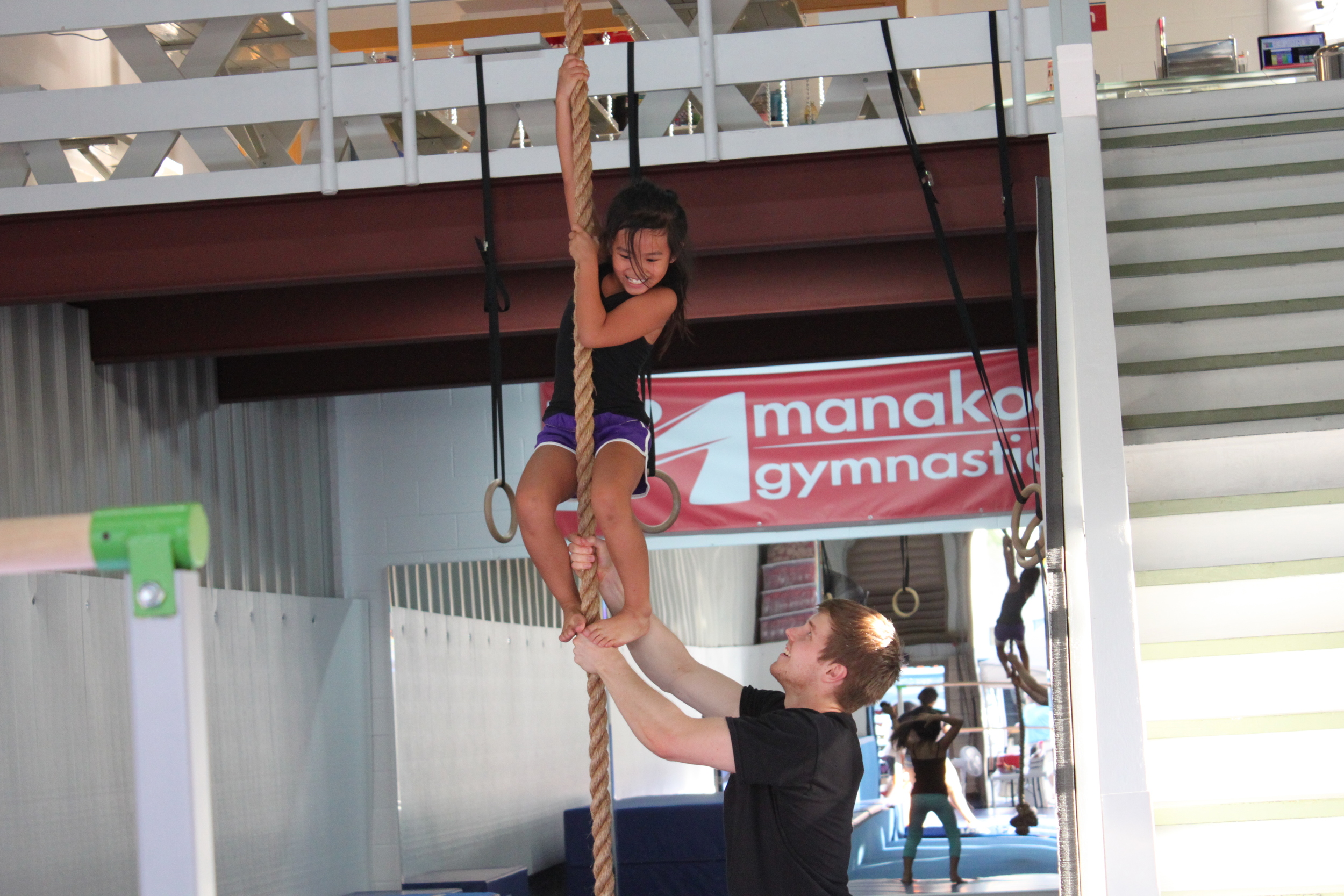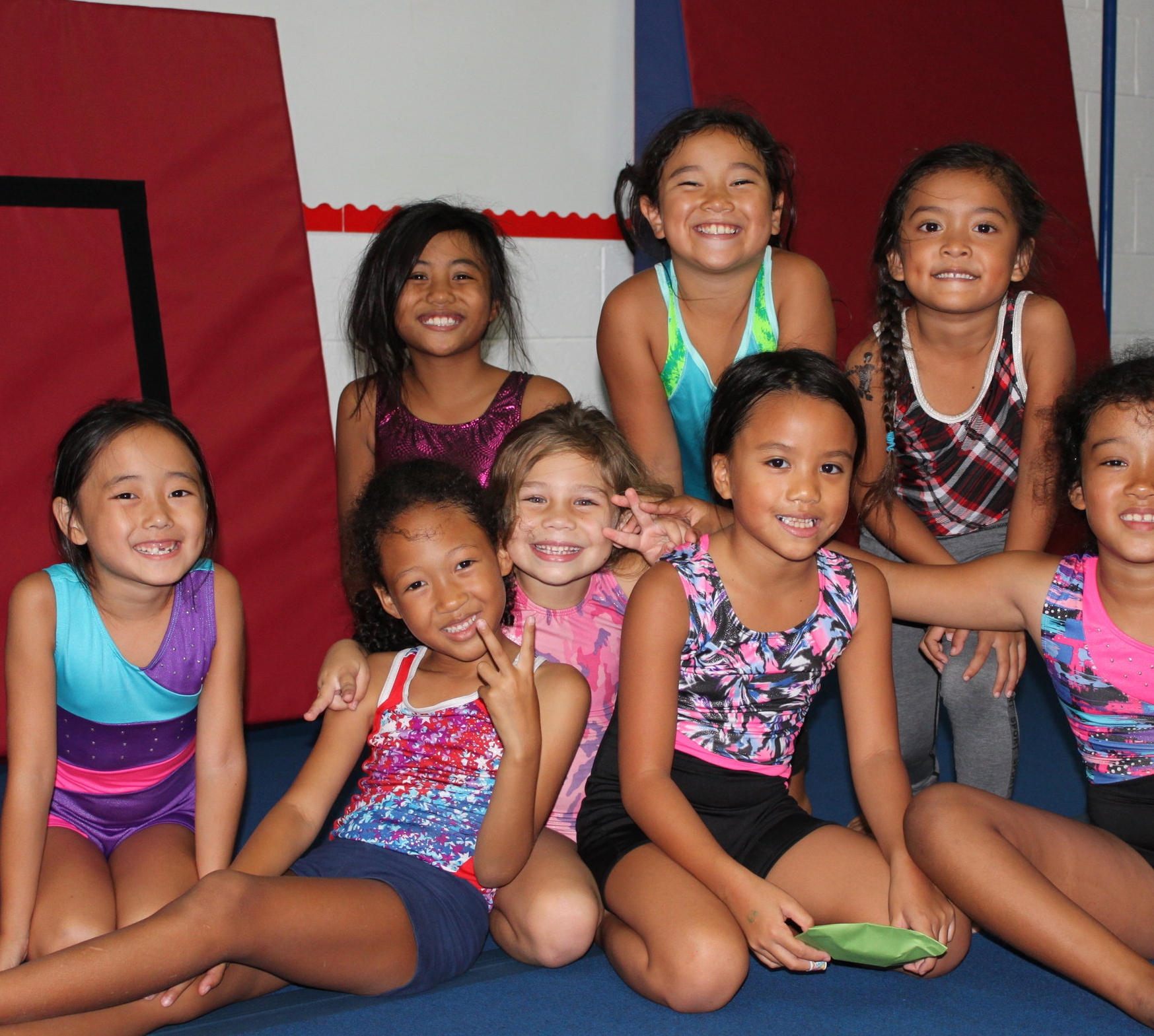 Find out what your keiki will learn!
Where there is a will...
There is a way!
Make time. Be strong. Be you -only better!
"And when students don't always stick their landings, they're quickly learning that true warriors get back onto their feet, which is a discipline that can be applied in both the gym and when hitting the books." – Jennifer Robbins, Hawaii News Now
A look at a team bars practice.
In Hawaiian language, "Manakoa" means champion/warrior spirit and the quote below best defines its true meaning:
"It is not the critic who counts; not the man who points out how the strong man stumbles, or where the doer of deeds could have done them better. The credit belongs to the man who is actually in the arena, whose face is marred by dust and sweat and blood; who strives valiantly; who errs, who comes short again and again, because there is no effort without error and shortcoming; but who does actually strive to do the deeds; who knows great enthusiasms, the great devotions; who spends himself in a worthy cause; who at the best knows in the end the triumph of high achievement, and who at the worst, if he fails, at least fails while daring greatly, so that his place shall never be with those cold and timid souls who neither know victory nor defeat." - Theodore Roosevelt, 1910.