"In times of trouble, when adversities are faced, one's true character is revealed." Horace
Manakoa Gymnastics Team
Our competitive team is gearing up for the upcoming competition season. We train athletes for various JO levels and also specialize in the Xcel Program. We also have a pre-team or Momentum Program Team (MPT) composed of girls training competitive level skills. We have a talented and hardworking group of gymnasts and an amazingly supportive group of parents. If you're interested in trying out for our team, please read the information at the bottom of this page.
Important Dates:
Team Beach Day: Sunday, September 1st from 4:30 p.m. to 7:30 p.m.
Upcoming Competitions
Princess Classic: October 12 & 13, 2019
State Championship: November 23 & 24, 2019
Aloha Gymfest: January 17, 18, & 19, 2020

Hawaii State Championships - November 18, 2018
The State Championships were a great closing to the 2018 Competitive Season for our team. Team Manakoa swept the podium in the coveted All Around. Gwen Jorgensen is the reigning 2018 All Around Hawaii State Champion XB Level with a score of 37.550! She is also Hawaii's State Champion on vault, beam, and floor.
Mia Manzo came a close second with a score of 36.775, while Maya Coloma took third with a score of 36.750. Skyllie Sakuma came in fourth with a score of 36.250, Isabelle Lum took fifth with a score of 35.900, and Kaelin Apuakehau grabbed the sixth spot on the podium with a score of 35.800. Holly LeDoux took sixth on Bars and Floor, while Kiana Acosta placed 9th on Bars and Floor.
In the Junior A division, Mia Pascua took third on Bars, Beam, Floor, and the All Around. Sabrina Valdez tied for 1st on Beam and came in 4th on the All Around. Maria Manzo came in 5th on Bars, Hiilei Dudoit took 6th on Floor, and Maya Manzo took 3rd on Vault.
Momentum Program Team
Picture Highlights from January 18 & 19 2019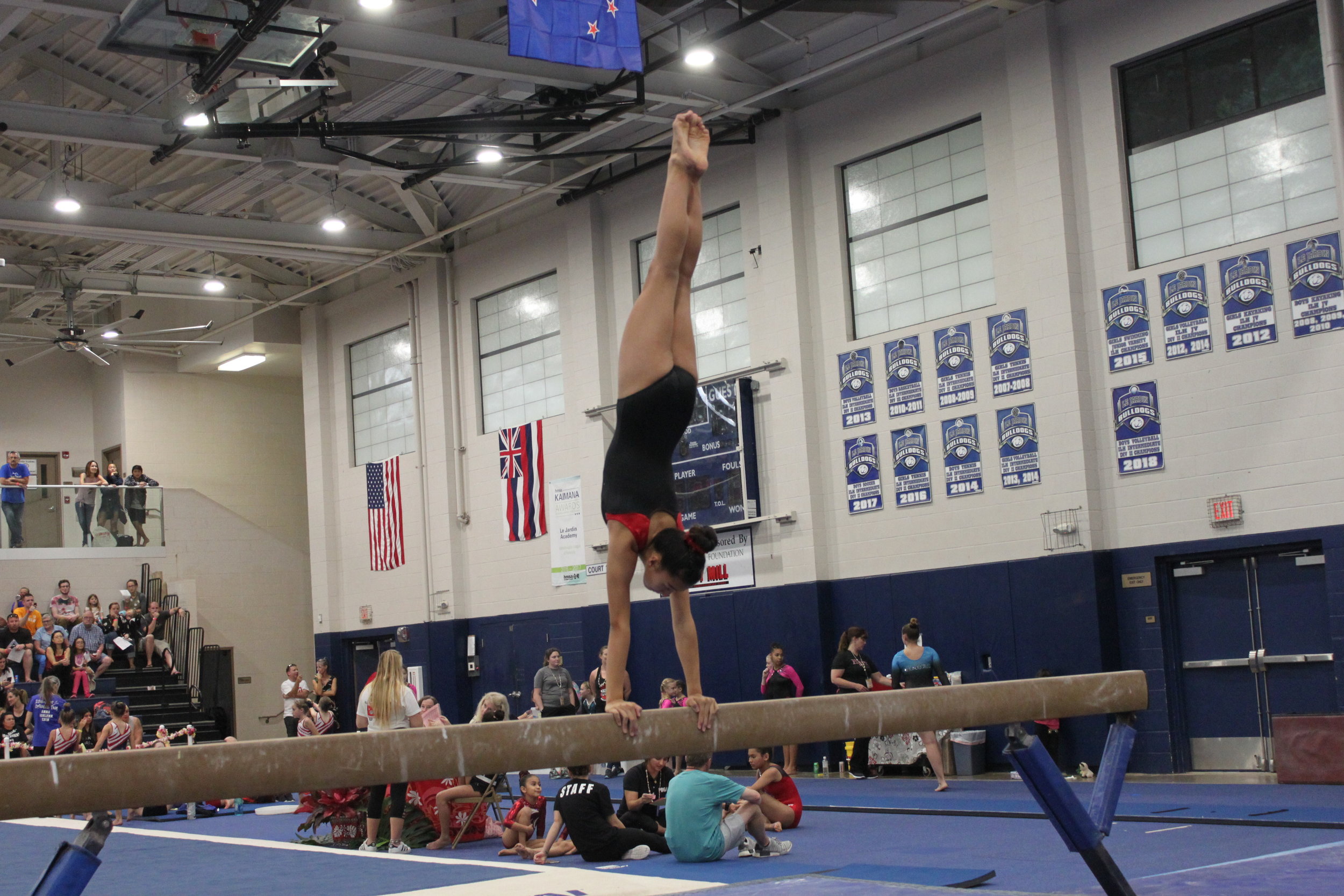 team Manakoa Competition Hairstyle
2018 Manakoa Team Awards Banquet Photos
Looking to Join our Manakoa Competitive Team 'Ohana?
When considering a gymnastics program, it is helpful to understand the different divisions in women's artistic gymnastics. The JO compulsory (levels 2-5), the JO optional (levels 6-10), or the Xcel (XB-XP levels). Gymnasts can jump back and forth from the JO compulsory to the Xcel divisions and vice versa. All of the above mentioned are based on USA Gymnastics competition code of points. Below are some differences:
JO Optional Levels and all Xcel Levels
Individualized floor choreography and individual music.

Individualized beam routine for each level

Individualized bars routine for each level

Makes for a far more rewarding experience for gymnasts because each is able to continue to progress at their pace and get to showcase her best skills without being held back because they didn't get one skill on one event in time.
JO Compulsory Levels 2 to 5
Same floor music and same choreography for all gymnasts

Same routines for all gymnast at a specific level

The upward mobility and skill requirements at each level is the same for everyone and all gymnasts must achieve all the skills on all events required for each level.

No individualized routines
JO & XCEL TEAM
If you've competed in the compulsory JO program where all routines are the same for everyone and are looking for a more individualized and flexible program, the Xcel division may be a better fit. If you are 9 or older and only at JO level 3, Xcel may be a better fit for you. If you are looking to have an individualized floor choreography and dance to music selected specially for you, then the Xcel program would be the best fit for you. Manakoa team coaches individualize beam and floor routines that highlight your skills and personality. They help you advance and challenge you to achieve skills in a safe and nurturing environment where team work and camaraderie are encouraged.
If you're interested in trying out for our team, please register for a 1 hour class trial on Monday or Wednesday at 3:00 p.m. or a 2 hour class trial on a Saturday or a Sunday from 12:00 p.m. to 2:00 p.m. and indicate on the registration (in the "Pick a Day & Time section) that you are trying out for our team. If you have any questions, please email us at manakoagym@gmail.com.